Hi Loves!
This is a 2 in 1 post – a motivational post with an outfit post combo!
I am expecting 2018 to be a remarkable year of change for me. In order to continue my growth and change, I have given it a theme. My theme for 2018 is "Face your fears". We humans are capable of doing so much but other than obstacles life throws at us, we set our obstacles under the guise of fear. So let's bisect this. What is fear? Fear isn't a tangible item. You can not touch it or measure it. You can only feel it. Hence it exists in our mind and we can remove it just as easily (not really lol) as it came about.
How do you and I can overcome our fears? Well you need to get in the habit of doing and practicing things that make you uncomfortable, give you anxiety or scare you. Starting small is a good idea. The more comfortable you get doing little things , the easier you will be able to maintain and get rid of self doubt when it comes to bigger things.
Here are some basic things I have been scared of and what I am doing about them.
I never lived alone – I have always have had family or roommates in college. And I am deathly terrified of silence. I will do anything to fill it with talk, noise and whatever else. These past few months, I chose to sit in silence alone! I could have reached out to a friend or a family member. Heck sometimes people even invited me out or called me over the phone but I refused to interact. Why? Because I wanted to feel uncomfortable. I wanted to see how long I last. I had the hunger to know, I can do it.
Before taking this step I watched a horror movie alone at home. Knowing full well the next few weeks, I might not sleep well.  I even forced myself to watch Andrew Zimmerman eat worms and all kinds of weird cuisine as I ate lunch while working from home.
Where is this leading to? It's leading to becoming stronger. Shedding little fear and prepping to face bigger ones. People in real life know I am super social. What a lot of people don't know about me that until I started college, I was complete opposite, an introvert. Terrified of asking a shop keeper for help. I became this person by forcing myself to work jobs in customer service industry and leadership roles in college. But I still am scared of being disliked. I was bullied pretty badly in middle/high school. And it sort of stuck with me up until today. Being an emphatic individual, extremely caring and people pleaser always leaves me wondering why someone doesn't like, because I am extra cautious when handling people and their feelings. I am also very quick to apologize when its not my fault. I can not sleep well if I feel I made a mistake and hurt someone. Trust me most of us do not want to be hated. But some people aren't as stuck on it as others.
I am planning to face my fear this year to let people know when they hurt me and not pretend its okay. I am okay losing people and relationships. I am planning to not be the bigger person 24/7, not the first to say hi – if the other person plans to be ignorant and rude. It's okay to have a set of people who don't like you half the time they have some form of insecurity that they are taking out on you.
I have never been scared of being honest , I am very what you see is what you get unless it might hurt someone's feelings. So I sugar coat stuff. But I have been scared to reach out to people, to show pain, and ugly emotions. Scared to initiate contact or gatherings. The day I started to talk about this with folks around me coworkers, friends and family – most of them reacted with surprise. How can someone like me feel this way? But there is the catch:
WE ALL HAVE FEARS! and this year we are going to work on shedding them. Follow the blog or IG as I share my journery and share more ideas in the coming days.
This outfit is another Victoria Secret x Balmain collaboration piece. It needs to get a bit warmer for me to rock it outside. It breaks my heart to cover it up with a jacket because it definitely deserve a night out on town. I loved the softness of the curls in my hair against the metallic and leather vibe of the outfit. It embodies a feminine strength that I strive for in my everyday life.
Until next time loves!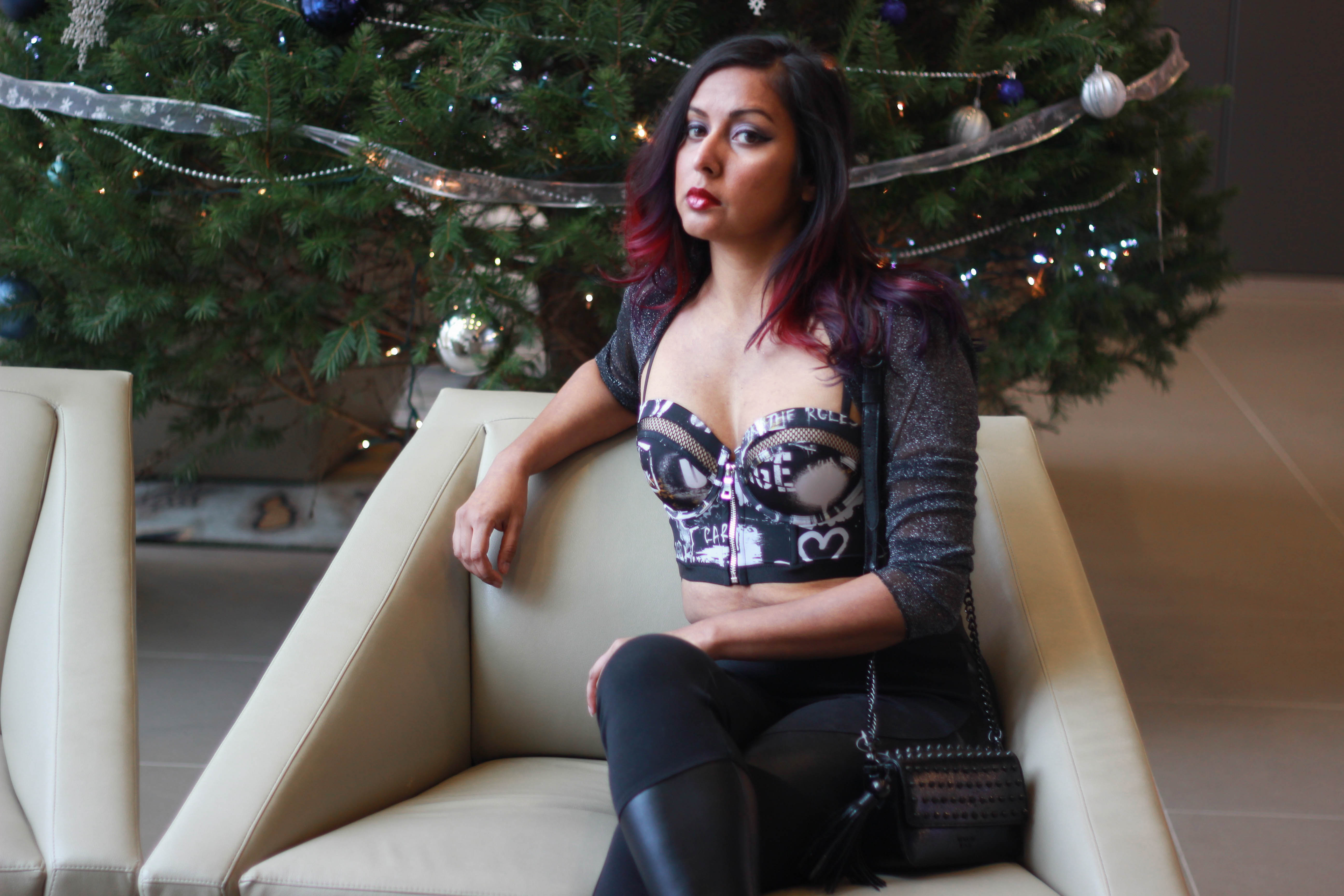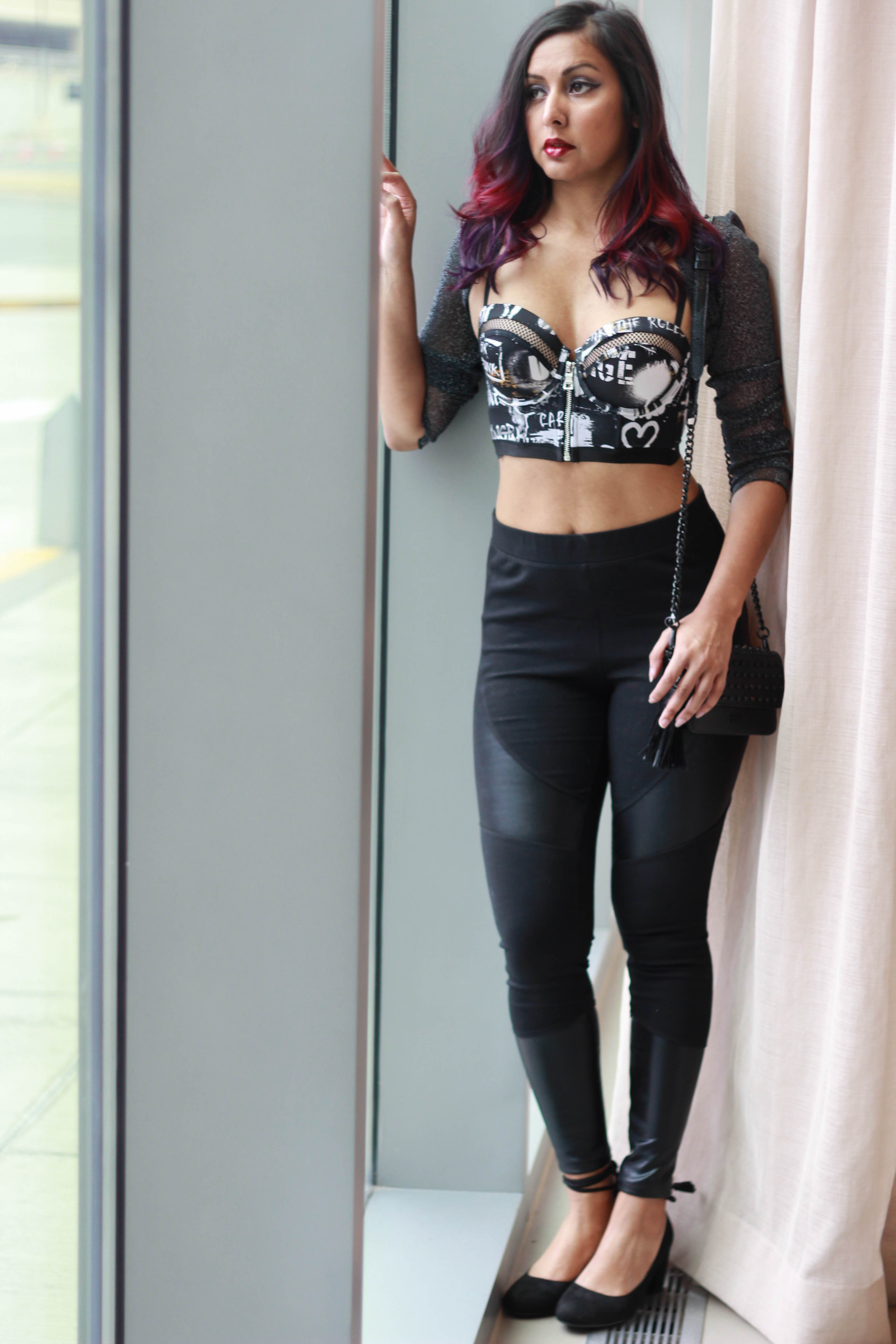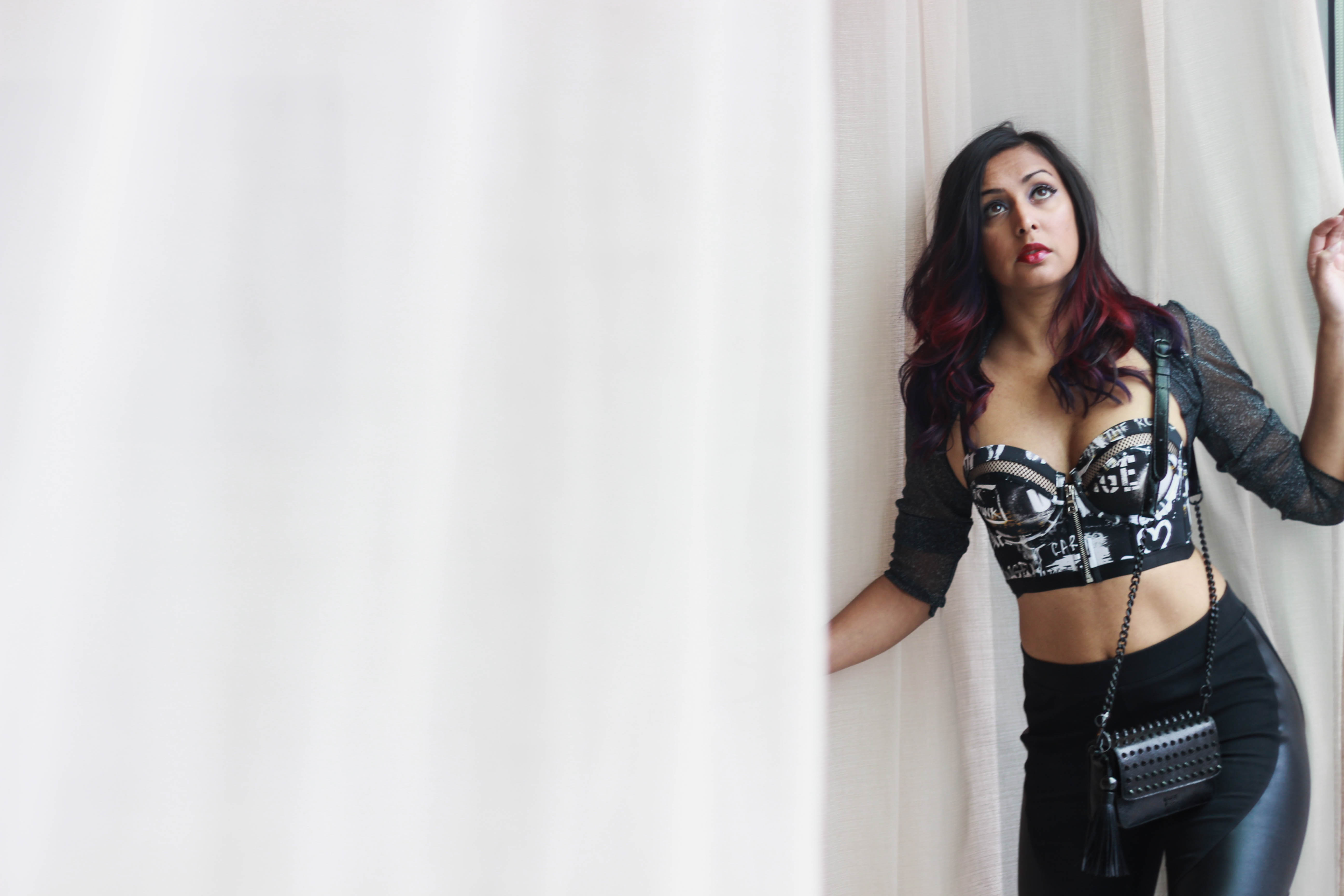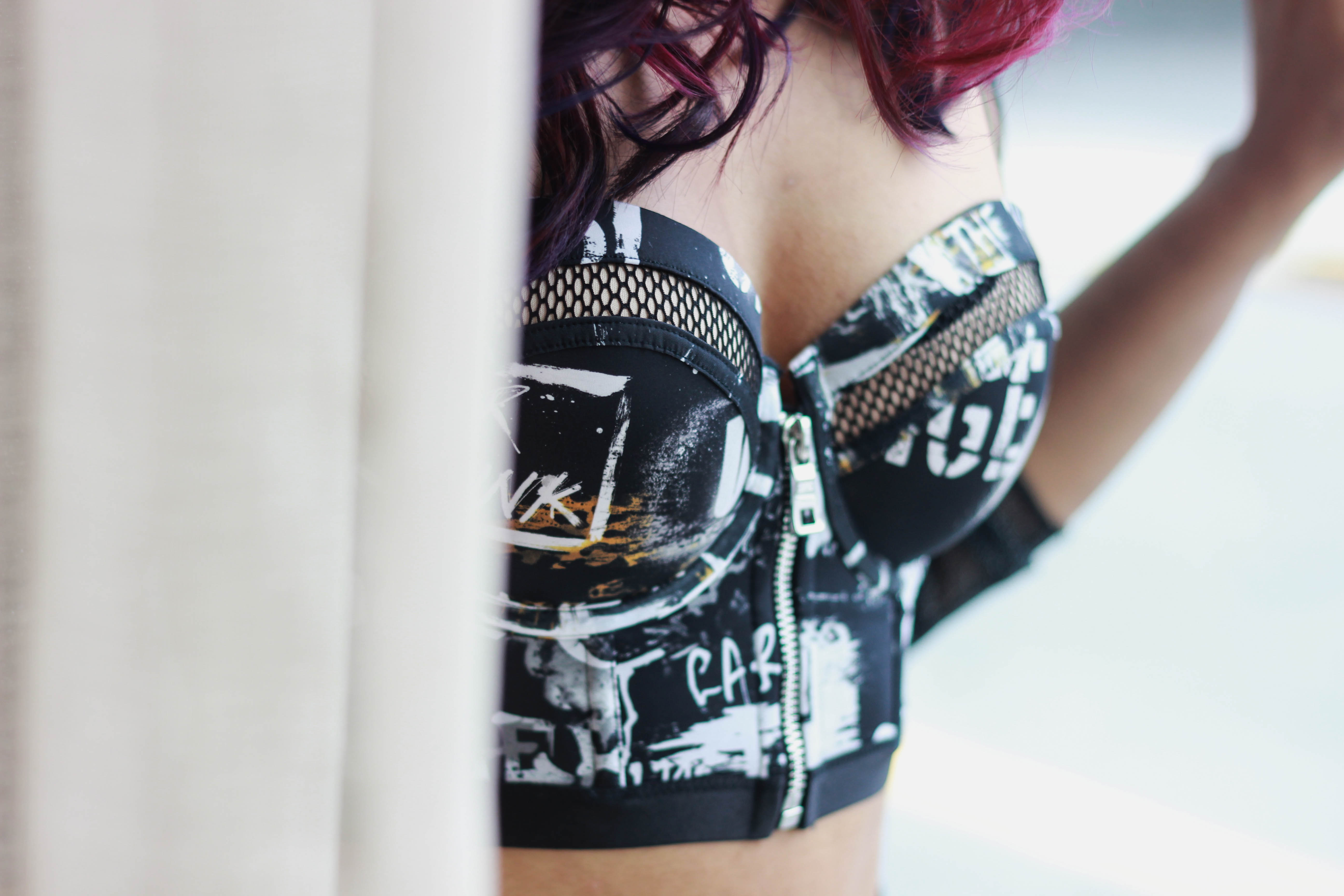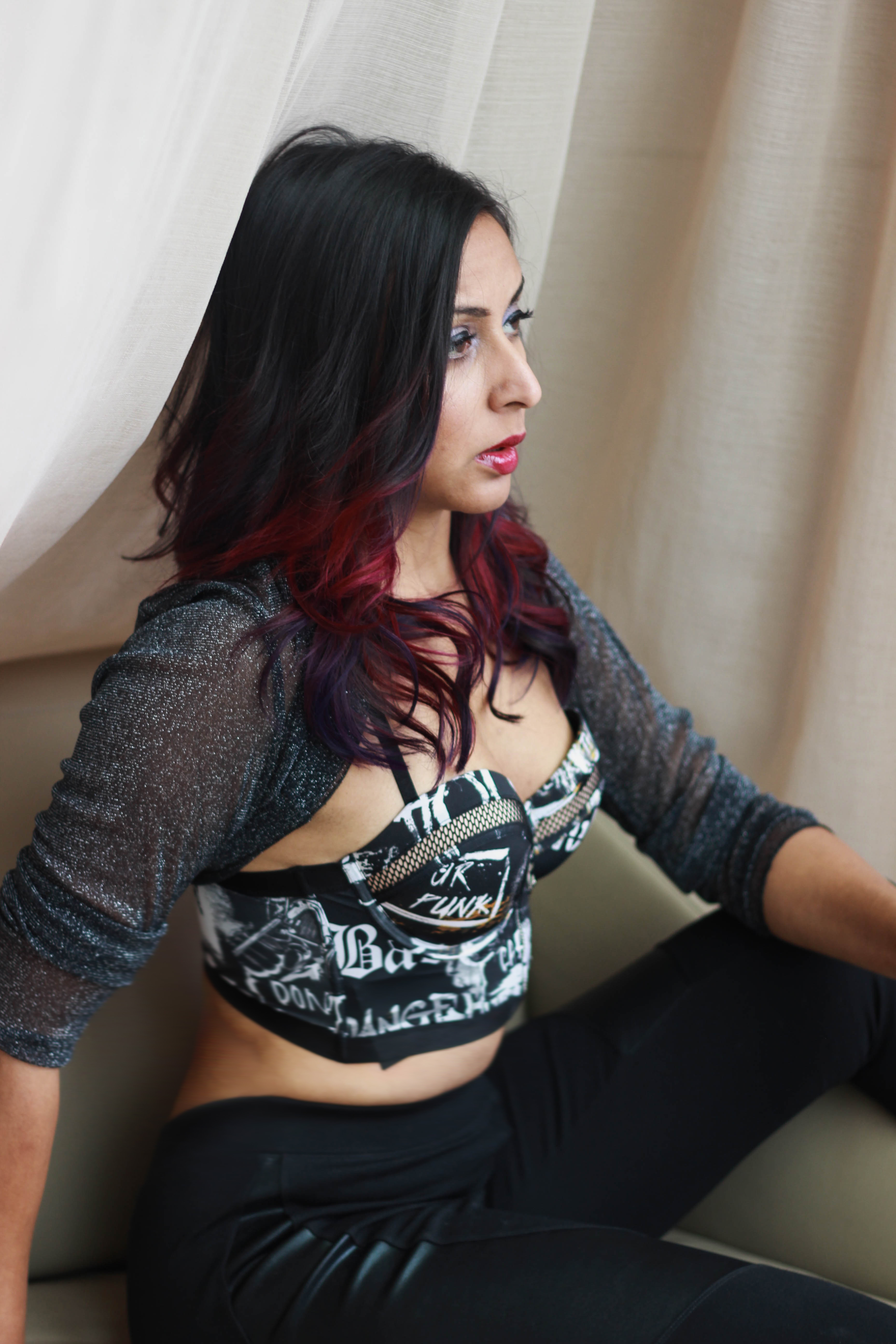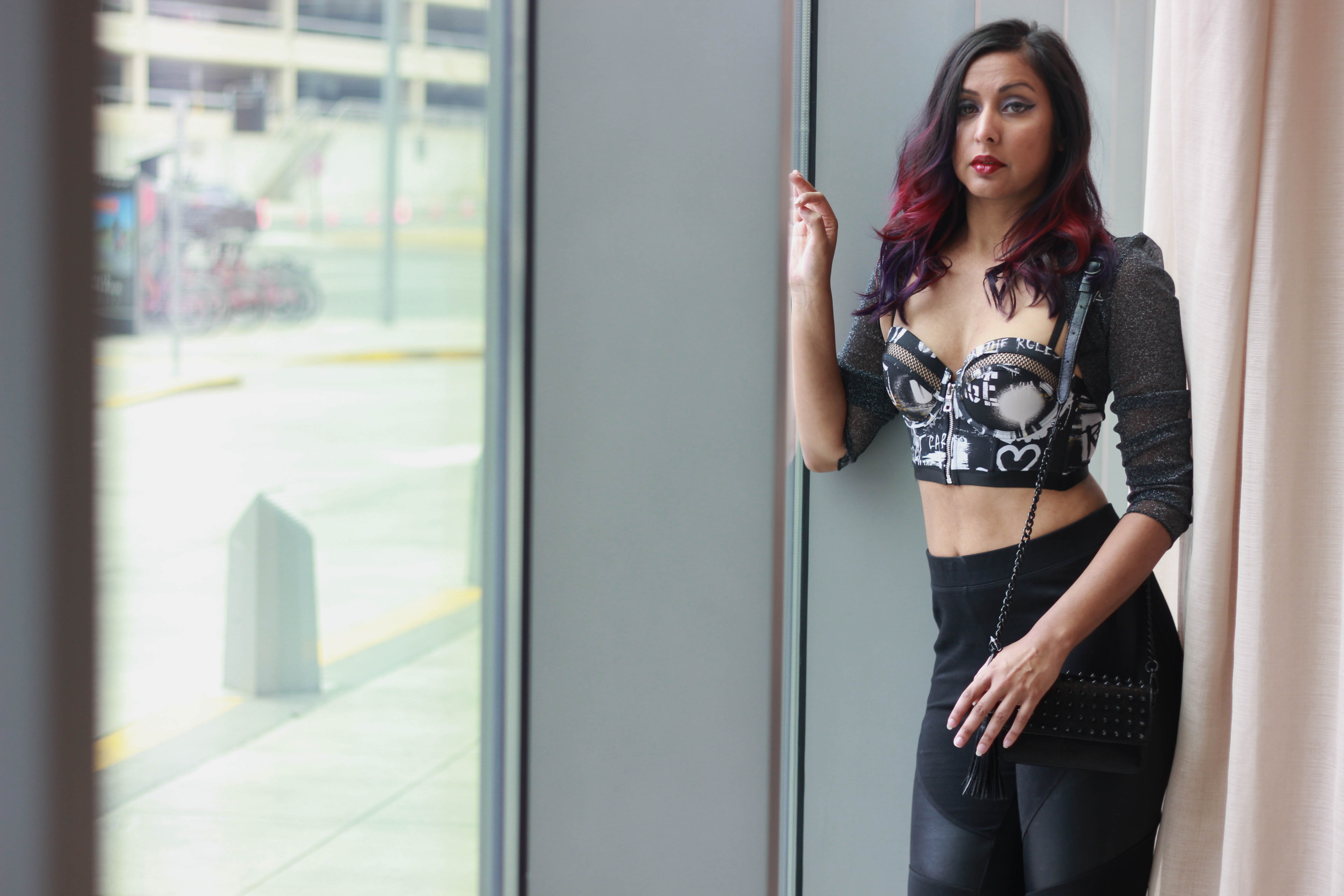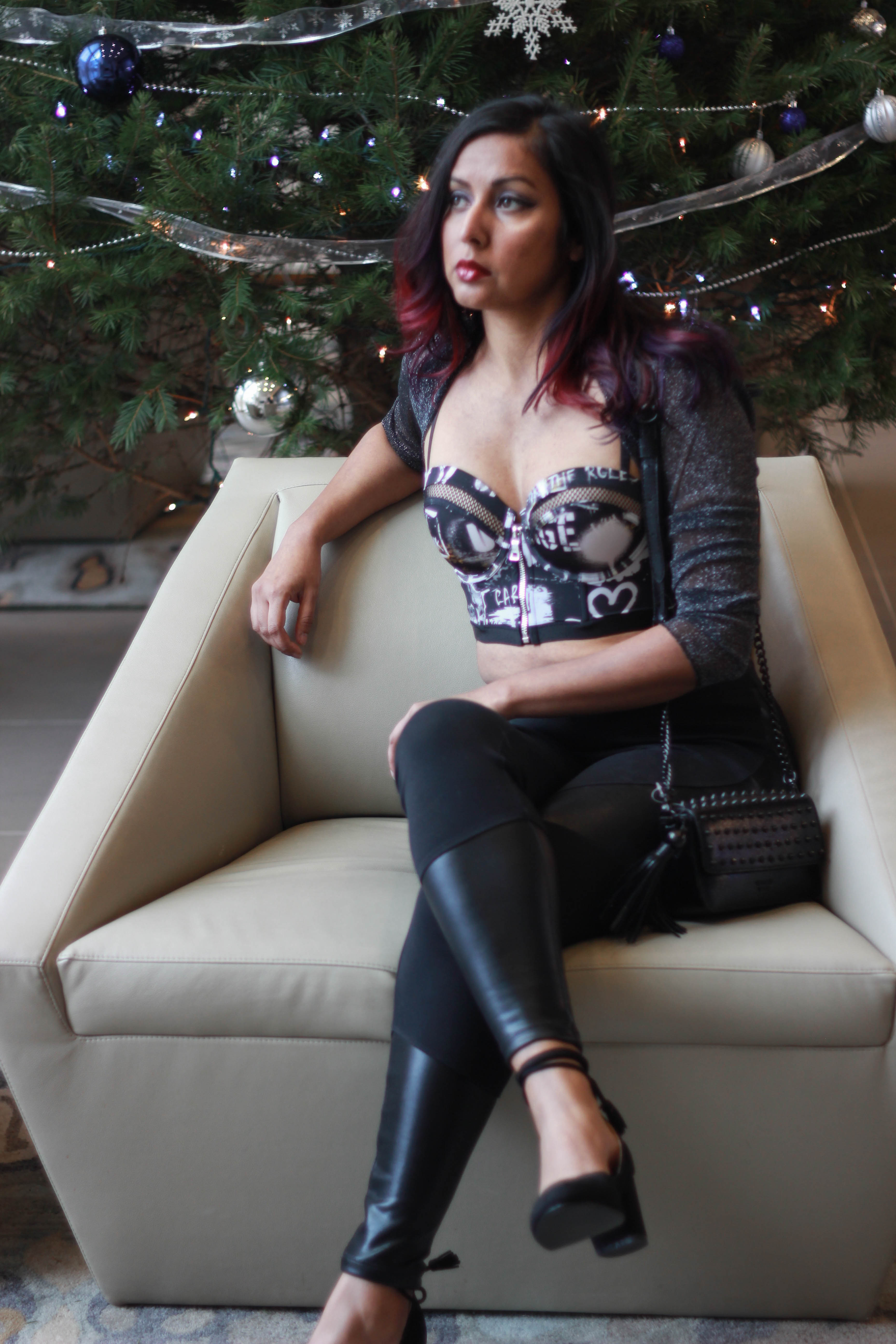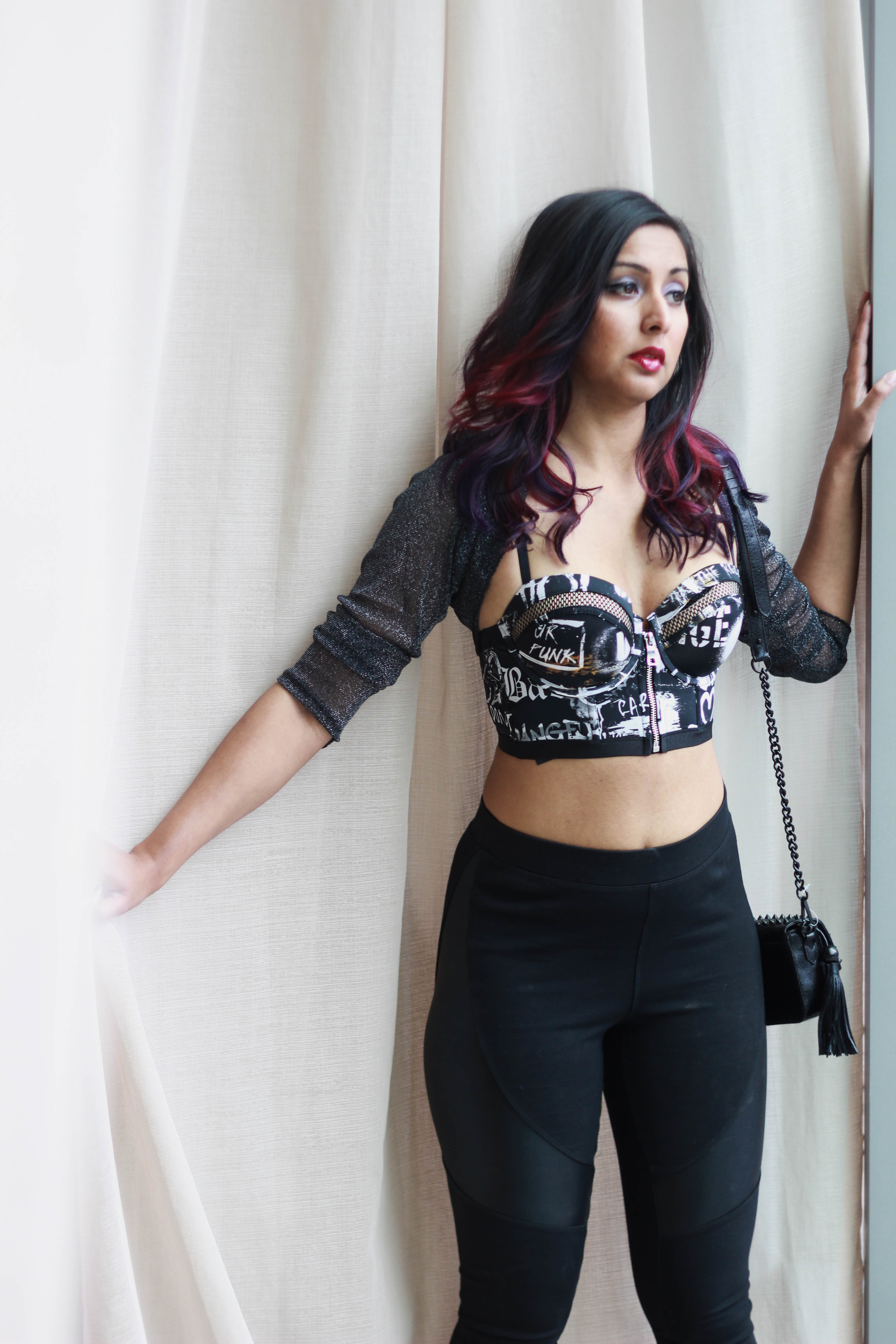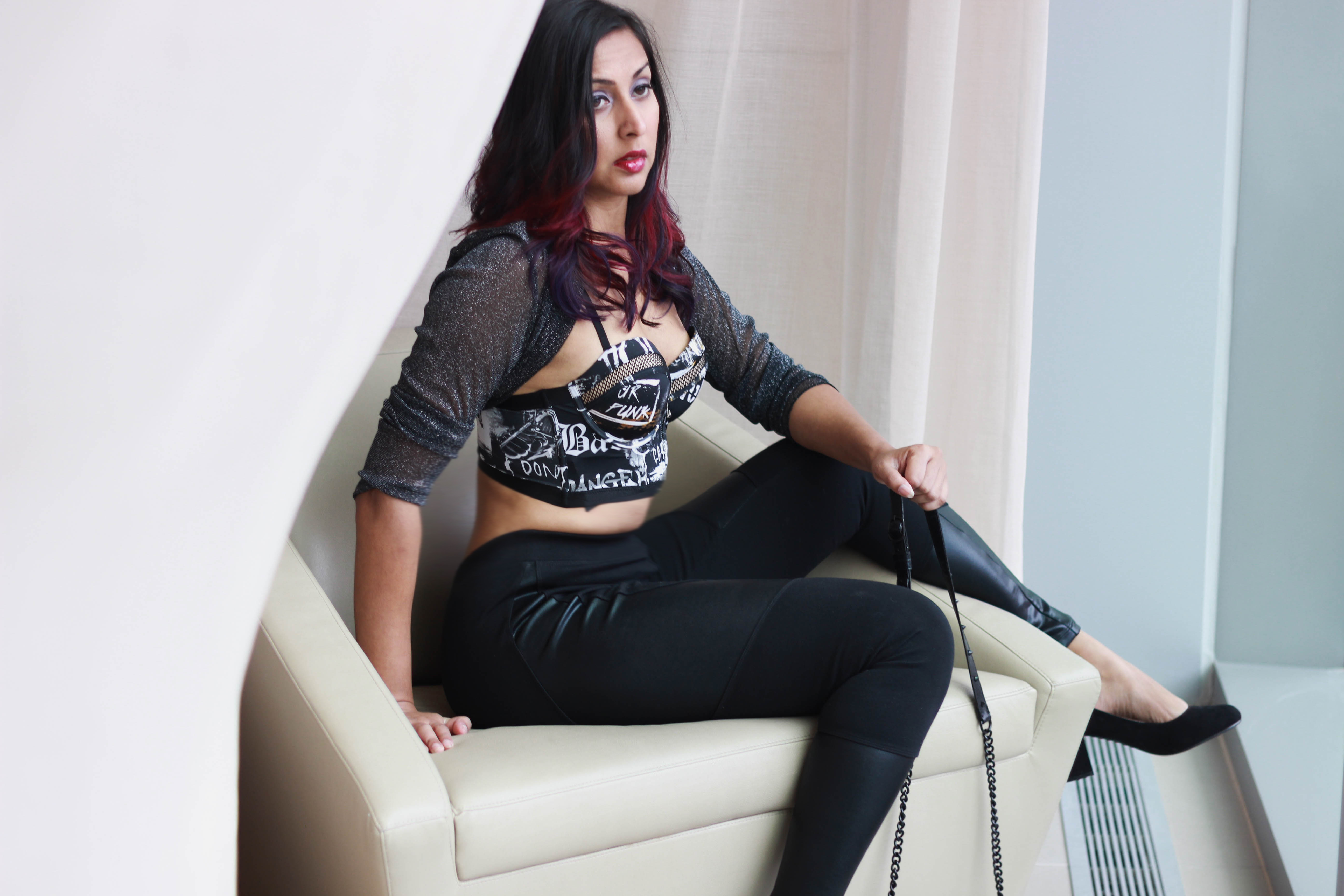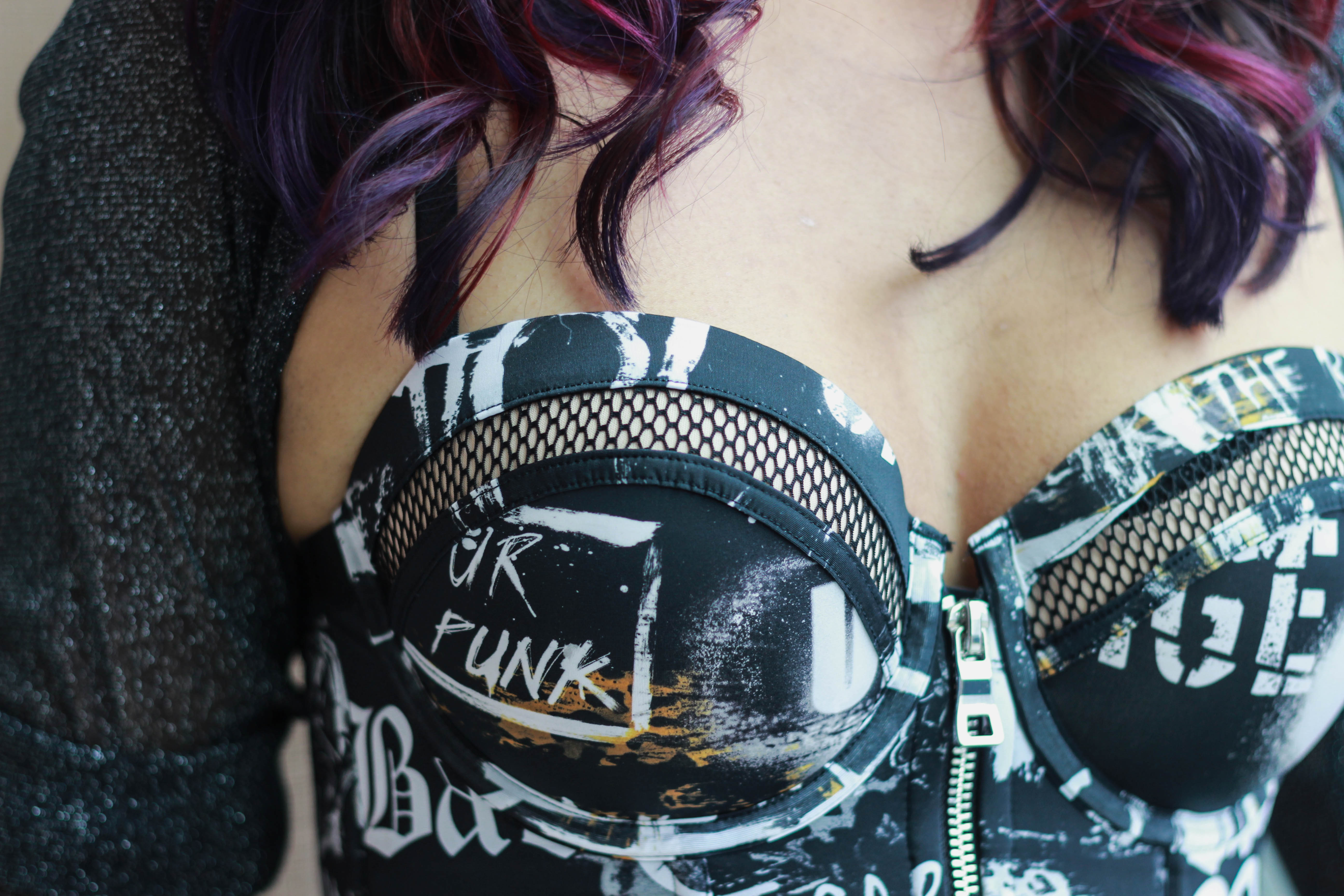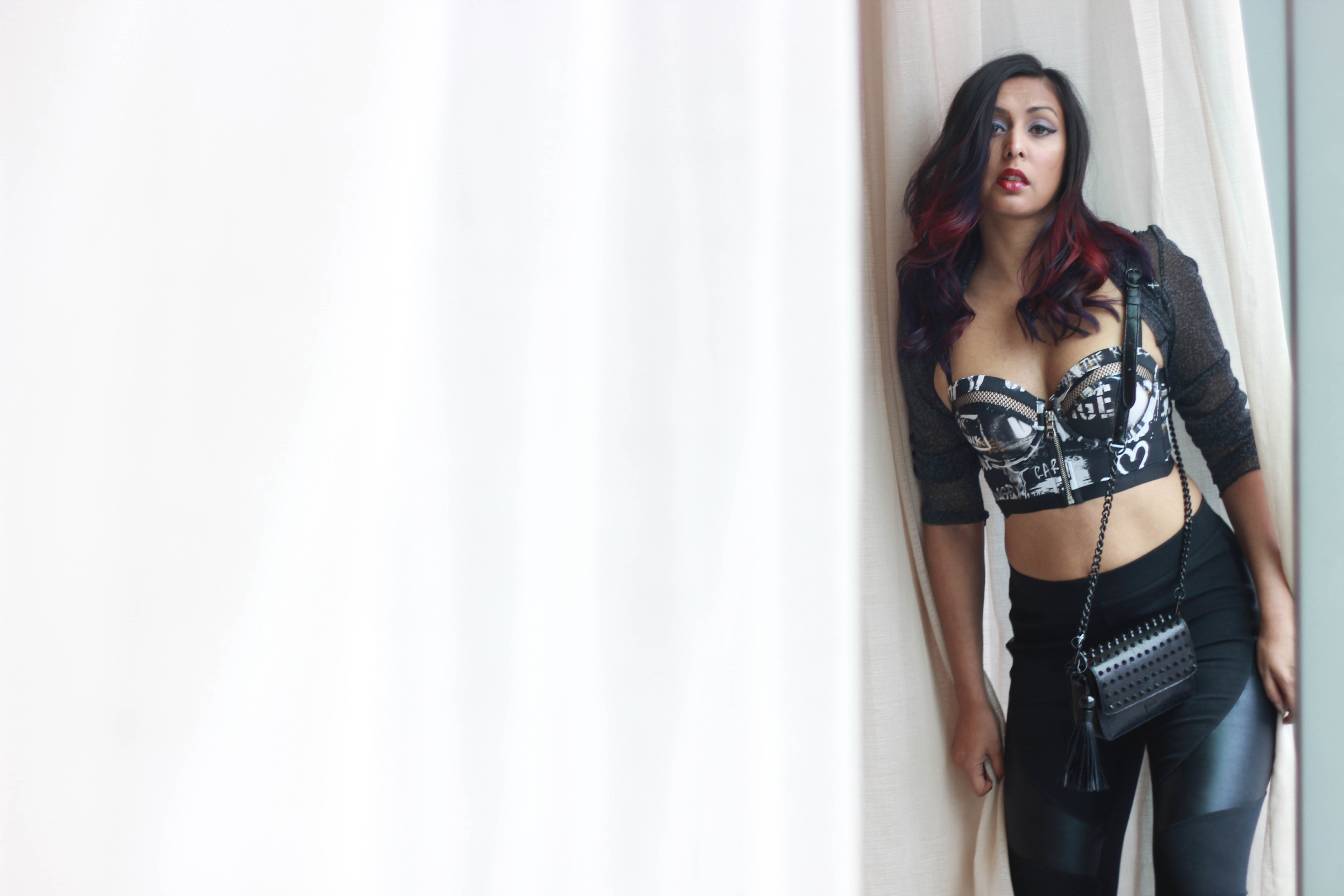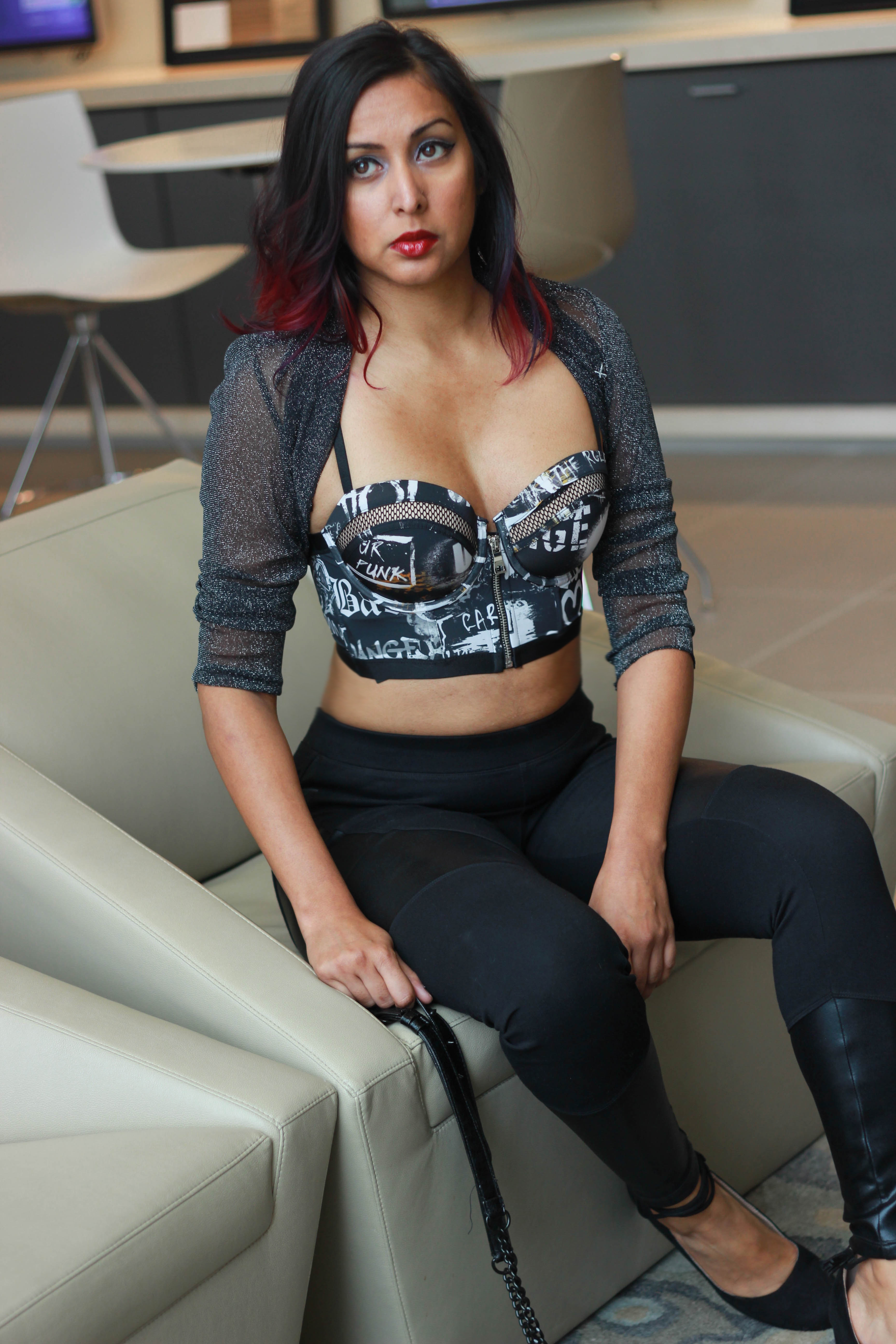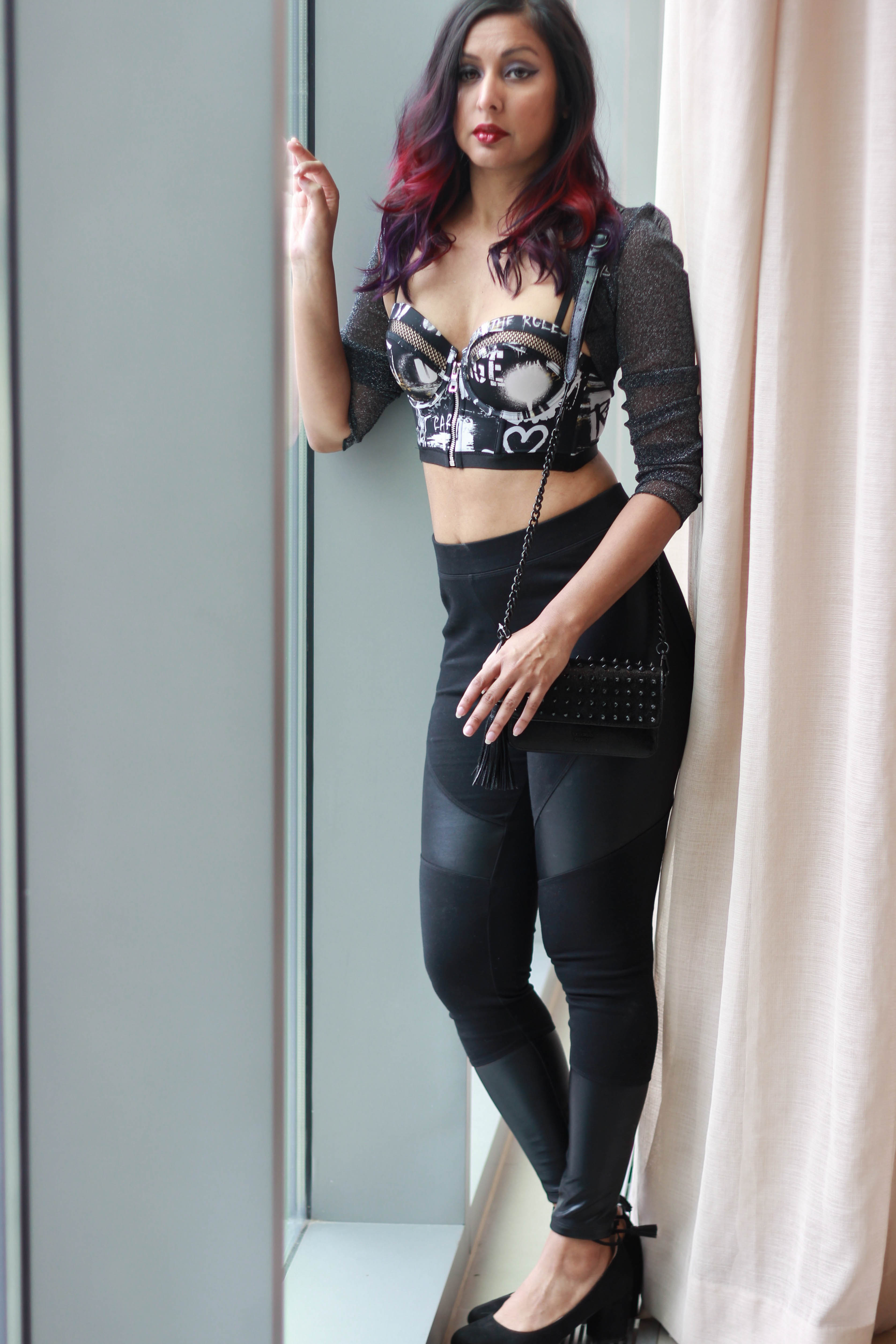 Bustier: Victoria Secret x Balmain
Purse: Victoria Secret
Leggings: Express
Top as a Shrug: Victoria Secret
Shoes: Allegra